by Jim Huber
Posted on September 15 2019
---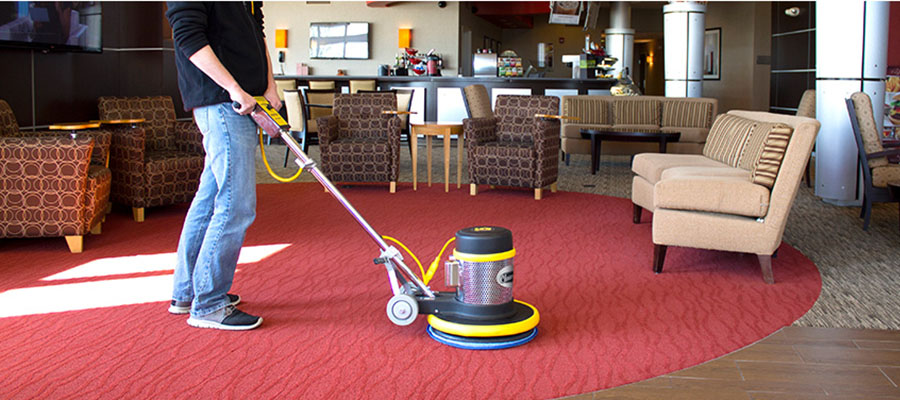 ---
Carpet cleaning with "encapsulation" is a low-moisture method that's a practical alternative to hot water extraction methods.
For many, maintaining and restoring their home or office carpeting is a costly and time-consuming endeavor. However, a growing number are taking advantage of the carpet encapsulation to lower costs and simplify carpet care. Some use encapsulation intermittently, or, as a replacement for deep, hot water cleanings. Encapsulation cleaning is typically much faster and easier than hot water extraction, which reduces labor costs. In fact, it's estimated you can clean 2,000 sq. ft. or more per hour with encapsulation, as opposed to just 600 sq. ft. per hour with hot water extraction. Encapsulation cleaning is not only faster and easier than hot water extraction, but it also keeps carpets cleaner longer, allowing for less frequent deep cleanings.
The Way Encapsulation Carpet Cleaning Works
Encapsulation chemicals are used which encapsulate and crystallize the dirt attached to the carpet fibers. This causes the dirt to clump together and release from the carpet fibers. When the encapsulation chemical is dry, the encapsulated dirt is simply vacuumed up. A good encapsulating cleaner actually resists dirt, whereas hot water extraction carpet detergents can be sticky, attracting dirt.
Carpet Spot Cleaning
Encapsulation carpet cleaning can also address wicking issues after hot water extraction. Whatever dirt residue leftover in the carpet after hot water extraction wicks up along with the water as the carpet dries. Since encapsulation controls wicking issues, it's also a good spot removal method. The encapsulation chemical is simply applied directly to the stain and allowed to dry, trapping the soil. Then it's simply vacuumed up.
In addition to spot cleaning pills with encapsulation, it is very useful as routine carpet care for high-traffic areas. Around 80 percent of the wear and dirt on a carpet occur on about 20 percent of it. Use regular encapsulation carpet cleaning on that 20 percent, focusing on spot cleaning, encapsulating, and vacuuming those areas.
Lower Environmental Impact
Hot water extraction cleaning takes 10 to 25 gallons of water to clean 1,000 sq. ft. of carpet, compared to three gallons of water with encapsulation equipment. Encapsulation cleaning not only conserves water but energy too. Encapsulation can use 70 percent less water and no heat. A carpet cleaning truck for hot water extraction cleaning also burns gasoline in order to heat the water.
While an occasional deep hot water cleaning may be necessary for your carpets, encapsulation can take care of most of your routine carpet care. In a very busy environment, you can do encapsulation every two or three months, and then do a hot water extraction once a year. In the long-term, extraction saves a lot of money and keeps your carpets always looking good longer.
---